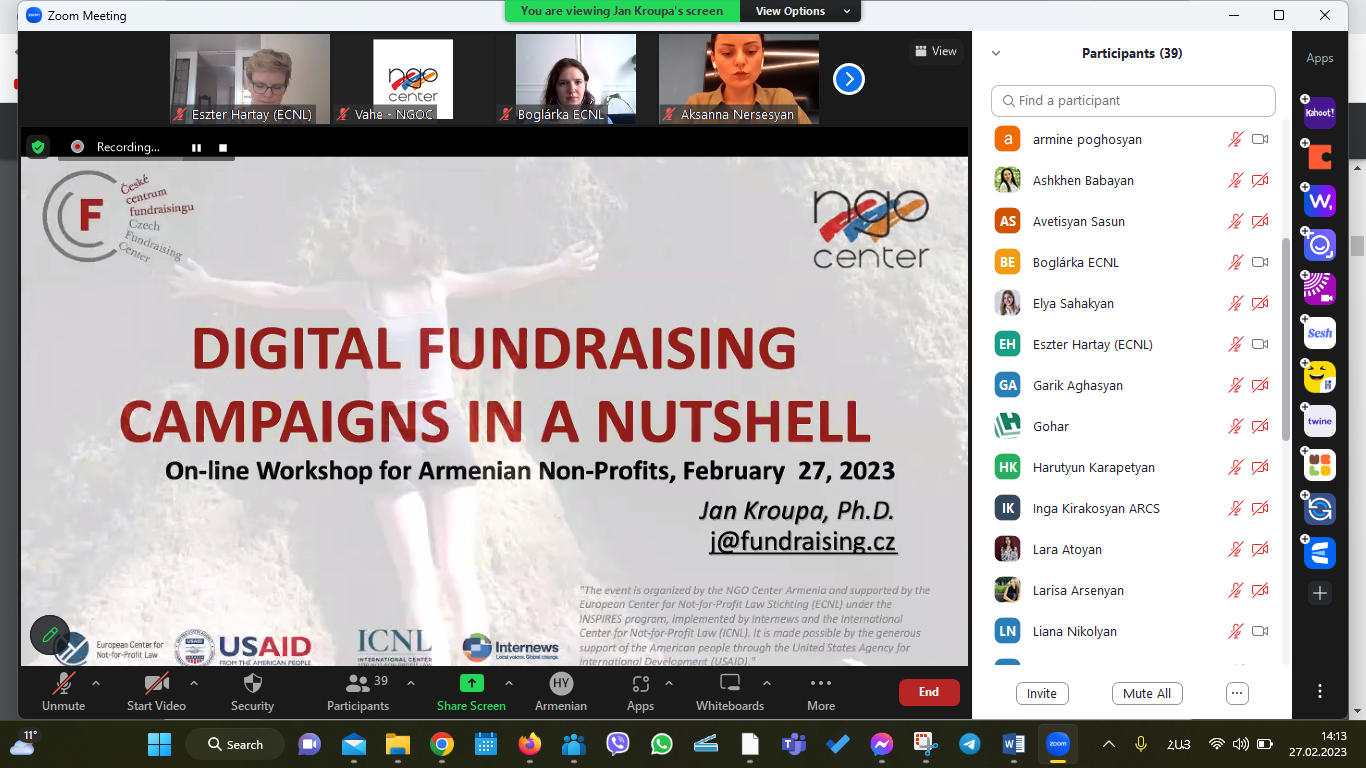 On February 27, within the framework of the NGO Center's "Philanthropy Promoting Partnership "(PPP) project, the first online workshop with the name "Digital Fundraising: from theoretical knowledge to practical application" was held which was attended by more than 40 representatives, mainly from the CSO field. 
Vahe Khachikyan, head of public relations of the NGO Center, gave a speech of welcome, who presented the purpose of the event and the project, within the framework of which the online workshop was organized, noting the importance of online fundraising in the development of the capacities of CSOs. 
Then the representative of the European Center for the Establishment of Non-Commercial Law (ECNL) Eszter Hartay welcomed the participants, noting that they are working in different countries, including Armenia, to make the CSO field more favorable for activities. 
The workshop was conducted by Jan Krupa, a representative of the Czech Fundraising Center, who spoke about digital fundraising approaches and their importance. The importance of planning and executing media campaigns using email addresses and media platforms for fundraising was also presented. 
The participants of the meeting raised questions that interested them. For the next meeting they were assigned to present their example of online fundraising. 
This project is made possible by the generous support of the American people through the United States Agency for International Development (USAID). The project is implemented by the NGO Center and supported by the European Center for Not-for-Profit Law Stichting (ECNL) under the INSPIRES project, implemented by Internews and the International Center for Not-for-Profit Law (ICNL).  The contents are the responsibility of the European Center for Not-for-Profit Law and NGO Center and do not necessarily reflect the views of USAID or the United States Government.