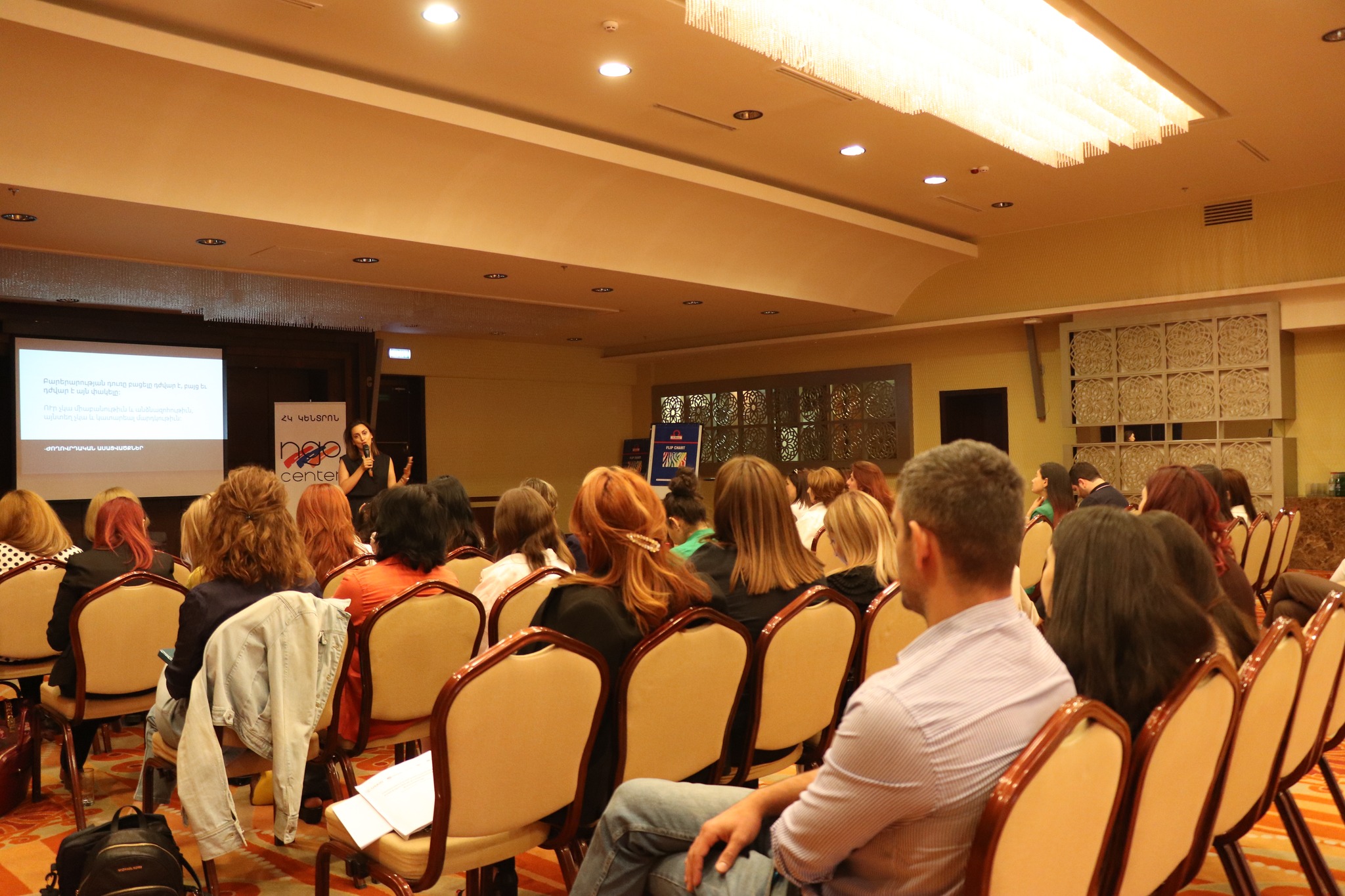 On June 21, "Philanthropy. Dialogue for Reforms" event took place by "Open Space" method.  The aim of the Open space was to bring together civil society structures and individuals, decision-makers, and the business sector representatives concerned with the problems of philanthropy in RA to think together, discuss and find solutions aimed at promoting the culture of philanthropy. The event gathered participants from nearly every RA ministry, the Prime Minister's staff, the staff of the Human Rights Protection Committee of the Parliament, local self-government bodies, civil society structures and the business sector representatives.
During the event, the president of the NGO Center Arpine Hakobyan presented the works that have been done so far related to the improvement of the charity sector. Then Irina Pahlevanyan, who is the vice-president of the board of the Armenian office of the International Chamber of Commerce, spoke about the existing problems in the charity sector and international practices, which are often related to commercial structures engaged in charity.
Artak Grigoryan, operational director of the "reArmenia" collaboration platform, presented the possibilities of the platform, emphasizing the possibility of long-term fundraising, which CSOs can also use.
Then Ani Samsonyan, an expert in the development of recommendations for public policy reforms of the NGO Center, presented the recommendations that were developed as a result of discussions with the advocacy group and international partners.
In the second part of the event, the participants discussed in groups the recommendations included in the policy document and their advocacy actions, which can lead to the improvement of the sector
The event is made possible by the generous support of the American people through the United States Agency for International Development (USAID). The event is implemented by the NGO Center and supported by the European Center for Not-for-Profit Law Stichting (ECNL) under the INSPIRES program, implemented by Internews and the International Center for Not-for-Profit Law (ICNL).  The contents are the responsibility of the European Center for Not-for-Profit Law and NGO Center and do not necessarily reflect the views of USAID or the United States Government.